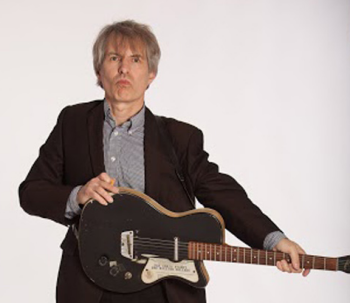 "I found these songs inside the same dilapidated old Silvertone lipstick guitar that I'd written my first records on," Stamey asserts. "Maybe that's why it sounds a bit like those records in some ways." In addition to Stamey's own memorable compositions, the album highlights includes the rousing opening track "Universe-sized Arms," a previously unreleased Ryan Adams composition that Adams suggested he record.
Assembling some longtime friends from Chapel Hill's fertile musical community, the album features Tony Stiglitz, F.J. Ventre, Wes Lachot, Matt McMichaels, Eric Marshall (Let's Active), Django Haskins (The Old Ceremony) and longtime cohort Mitch Easter, as well as guests Norman Blake (Teenage Fanclub) and Pat Sansone (Wilco).
Euphoria is the followup to 2013's widely acclaimed Lovesick Blues, and 2012's dB's reunion album Falling Off the Sky. Since 2010, Stamey has been the musical director and orchestrator for a series of all-star international concert performances of Big Star's classic album Sister Lovers aka Third, with a rotating musical cast that includes Big Star's Jody Stephens as well as members of the Posies, R.E.M., Teenage Fanclub, Wilco and Yo La Tengo.
Stamey has also produced and recorded a wide variety of artists at Modern Recording, the Chapel Hill studio that he's operated for the past two decades, including the likes of Whiskeytown, Alejandro Escovedo, Flat Duo Jets, Le Tigre and Tift Merritt.